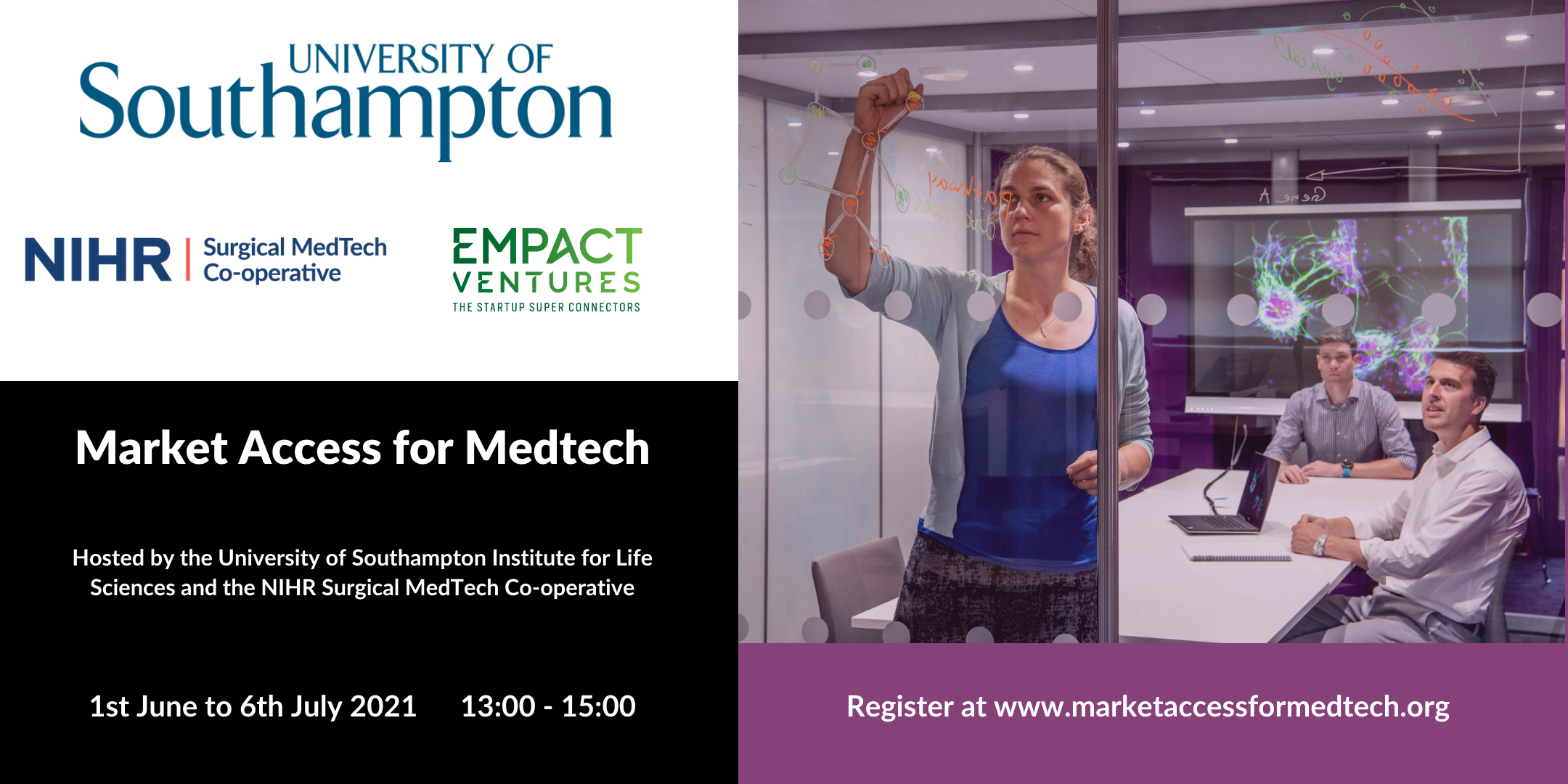 Health and technology speakers across the UK announced for the virtual Market Access for MedTech Course
A new initiative is being launched to support UK-based SMEs and innovators to better understand the pathway to bring medical technologies to market and enhance innovation for patient benefit. 
Market Access for MedTech is led by the University of Southampton Institute for Life Sciences and National Institute for Health Research Surgical MedTech Co-operative, powered by global super connectors, Empact Ventures. 
The free two-hour sessions spread across six weeks will take place online every Tuesday from the 1st June 2021 until 6th July 2021 as a service to support the MedTech sector. It aims to enhance collaboration for SMEs with the NIHR MedTech Co-operatives, regional universities and stakeholders in the wider ecosystem.
The course is supported by the University of Leeds, University of Portsmouth SIGHT Programme, Wessex Academic Health Science Network, Top Business Tech, HealthTech World and others, and is funded by a Higher Education Innovation Fund award to the Institute for Life Sciences
It will feature 20+ speakers from organisations including the National Institute for Health and Care Excellence (NICE), Innovate UK, Bowel Research UK, Leeds Teaching Hospitals NHS Trust, SETsquared, Device Access UK Ltd and more.
The course will also showcase MedTech SMEs and key stakeholders in a Digital Exhibition enabling people to connect with them over a video. For those that are seeking to explore new collaborations, Empact Ventures will make introductions via email after the course finishes to potential partners, clients and funders for those that opt-in upon registration.
Vee Mapunde, Programme Director of the National Institute for Health Research Surgical MedTech Co-operative, commented: "Whilst there is no shortage of surgical innovation, very few devices make it to clinical practice for various reasons which this course aims to highlight.  Early clinical involvement has been identified as one of the main obstacles to successful translation, and by working together with our event partners (University of Southampton Institute for Life Sciences and Empact Ventures), we aim to demystify key parts of the process and provide practical advice for industry.  The key thread throughout the course will be the requirement to  demonstrate  patient benefit, and we encourage delegates to  make use  of the Q&A/chat functions as well as networking tools to get the most out of the speakers and panellists"
Professor Peter JS Smith, Director at the University of Southampton Institute for Life Sciences, commented: The central south of England has a vibrant and diverse MedTech sector. Through our work with scientists and engineers translating their research and businesses developing medical technologies, it's clear that the pathway to market can be complicated. By bringing together leading experts from around the UK, we aim to provide an overview of the process and stakeholders, as well as giving innovators the opportunity to connect with organisations that can help them. In turn, we want to better understand the sector need so we can match business aims with regional research support. We warmly welcome you to join us on the course.
Kosta Mavroulakis, Founder & CEO of Empact Ventures & Super Connect for Good, added: "It is an honour to work with these two fantastic organisations to educate and connect MedTech SMEs, clinicians, academics, funders and key stakeholders across the UK. We have been very impressed with the work that the University of Southampton Institute for Life Sciences is doing to support these stakeholders, and it is showing that it is one of the leading universities in this area. We are also delighted to be working with the NIHR Surgical MedTech Co-operative once again after three successful event collaborations from the Super Connect Leeds event to the Virtual Northern MedTech Summit in January 2020. We look forward to hosting people from around the UK and beyond to discuss, connect and create new MedTech collaborations that will benefit society in years to come."
Please visit the Market Access for MedTech page at http://www.marketaccessformedtech.org for more information and to register for one or more of the six weekly sessions.
Ends 
For more information contact:
Kosta Mavroulakis, CEO, Empact Ventures
T: 01202 985 134
kosta@empact-ventures.com
About the University of Southampton Institute for Life Sciences
Established in 2011 by the University of Southampton, the Institute for Life Sciences works to catalyse collaborative research, education and enterprise at the interface between disciplines. We do this by organising a wide range of events and activities, supporting interdisciplinary PhD students and pump-priming new projects, with a particular emphasis on disruptive research at the STEM/biomedical interface. With over 350 Members from across all disciplines at the University, we are a highly connected community of experts. Our collaborative approach extends to wider regional initiatives such as the FortisNet network in musculoskeletal health, which has an active membership from industry, clinical practice, universities, and stakeholders; and IDeAC, the Interdisciplinary Dementia and Ageing Centre. For more information please contact IfLSAdmin@soton.ac.uk. 
About NIHR Surgical MedTech Co-operative
The NIHR Surgical MedTech Co-operative supports the development of medical technologies in the fields of colorectal, vascular and hepatopancreaticobiliary (liver, gall bladder and pancreas) surgery to improve healthcare and quality of life for patients.  We are hosted by the Leeds Teaching Hospitals, the second biggest healthcare provider in the UK, working closely with the University of Leeds, a leading UK University with strengths in biomedical research.
There are important challenges that cut across General Surgery. "Safer Surgery" is a priority area of national (UK National Patient Safety Agency) and international (WHO Safer Surgery Saves Lives) importance. 30% – 50% of patients undergoing major abdominal surgery suffer a complication, inflating the cost of care by ~6-fold and causing long-term physical, psychological, and financial consequences. Surgical site infection and anti-microbial resistance are high on the national agenda, and there is a real need to improve outcomes for the most vulnerable patients undergoing emergency surgery.
One of the most significant advances in surgical practice has been the introduction of minimally invasive therapies (laparoscopic and endoluminal), with benefits for patients in terms of quicker recovery, and healthcare providers in terms of efficiency savings.  Although there is no shortage of surgical innovation, few devices make it into clinical practice; only 9.8% of surgical innovations are translated to first-in-man studies, with ~1% being widely adopted. Early clinical involvement has been identified as the biggest obstacle to successful translation. By working with our key stakeholders, the NIHR Surgical MIC will address many of the important unmet surgical needs and provide the expertise and resource needed to translate new technologies into patient benefit.
About Empact Ventures
Empact Ventures are global super connectors who co-design initiatives, scout for world-class innovation for larger organisations and funders and open the right doors at the right time for tech startups and scale-ups.
We bring people together based on mutual need and interest in a personalised and facilitated way to support you in creating strong relationships and partnerships. We work with both people and organisations in the private, public and third sector to understand their needs, interests and challenges. We then bring them together with those that can address these areas through our initiatives, projects and ventures.
Our co-designed initiatives include the Super Connect Series, Super Connect for Good Competition, Virtual Northern MedTech Summit, Market Access for MedTech, StartUp Britain and more.
For more information, visit